Red Bull Arts Detroit
Red Bull Arts is pleased to present Akeem Smith: No Gyal Can Test, on view at Red Bull Arts Detroit from April 16–July 30, 2021. Following its critically acclaimed debut in New York, an expanded presentation of the artist's solo exhibition will travel to Red Bull Arts Detroit, which is home to the program's curatorial fellowship, artist residency, radio studio, and artist grant initiative. For his Detroit presentation of No Gyal Can Test, Smith will debut new sculptures and site-specific video and audio installations, develop a series of virtual and public programs, and release an exhibition-inspired capsule collection under his fashion label, Section 8.
In advance of the exhibition's second iteration Smith has returned to Kingston to expand his archive of building materials and ephemera rooted in historic sites within the dancehall scene that have since been abandoned or fallen into disrepair. This complex, unseen socially-oriented side of Smith's practice finds the artist locating these sites and overseeing the demolition and, in some cases, the reconstruction of entirely new structures in partnership with the land owners.
"Like Kingston's dancehall community, Detroit is home to an important locus of culture within the global Black diaspora," Smith reflects. "I'm excited to see how the exhibition's themes of community, site-specificity, and transformation through music and style reverberate in a city shaped by such deep-rooted, parallel histories of economic disenfranchisement and subcultural abundance."
Smith's extensive, traveling exhibition traverses the slippages between memory, the archive, and history, excavating the personal photographs and videos entrusted to the artist over the past decade by various family members, friends, and pivotal figures of Kingston's dancehall community. The artist's archive represents his familial network and inheritance as the heir apparent to the OUCH Crew—the legendary six-woman crew and fashion house, led by Smith's aunt, that helped define dancehall aesthetics through their styling work and innumerable one-off designs. Drawing upon his experience growing up between New York and Jamaica, Smith harmonizes disparate elements from this extensive archival documentation, which chronicles this seminal era from the early 80s through y2k, conjuring a collective memory that otherwise would have only existed on the threshold of the artist's own.
Part poem, part anthropological homage, No Gyal Can Test forms a layered exploration of spectral coloniality, diaspora, and the voyeurism that results from transposing these artefacts of a still-active community across cultural, economic, and temporal divides. Smith presents a series of large-scale sculptures comprising demolished architectural remnants salvaged and transported from his childhood neighborhood, Kingston's Waterhouse District. Filtered through the artist's transgressive and challenging aesthetic, Smith's monumental assemblages house multi-channel videos and photographs carefully culled from his extensive archive that deify the women of dancehall as the larger than life figures of his youth.
"No Gyal Can Test is a love letter to not only the women who raised Akeem, but to the intrepid spirit of the people of Jamaica and a contribution to the evolving shadow archives of the Black experience," states the exhibition's curator Max Wolf. "In the context of our hyper-mediated, socially distanced present, it's hard to ignore the illuminations of a past that speak to the fundamental need within all of us to gather in community."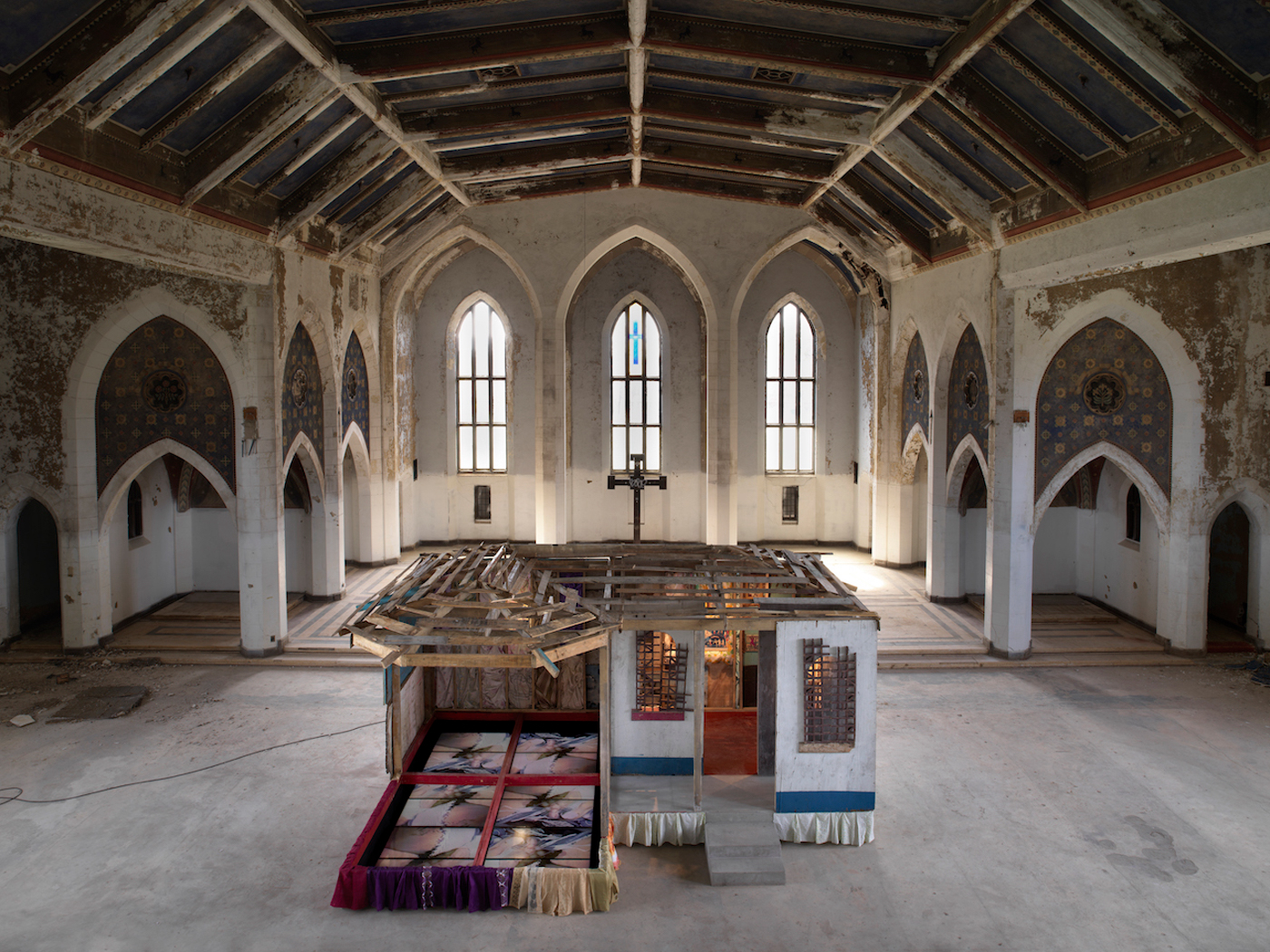 Akeem Smith
Soursop, 2020
Not for Sale